As known, General secretary Naresh accused Movie Artiste's Association (MAA) President Sivaji Raja and his associates indulging in corruption. Sivaji Raja, hero Srikanth, Edida Sriram and others have been questioned for irregularities in utilization of association funds. It is being alleged that the donations collected during MAA Silver Jubilee celebrations in the US have been misused.
Naresh had taken the account books into his custody. Mega star Chiranjeevi had to intervene in the matter to compromise. An emergency meeting was held where it has been decided to set up an enquiry committee to probe descrepancies in accounts.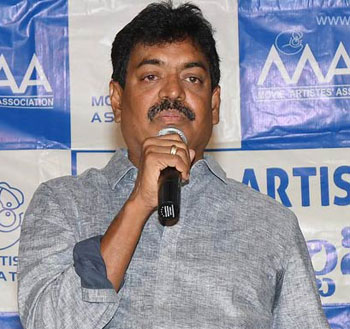 Today, Sivaji Raja, Srikanth and MAA Treasurer Paruchuri Venkateswara Rao interacted with media. Sivaji Raja refuted allegations.
"I swear on my children that I have not used 5 paise from MAA's funds for my personal purpose. I will give away all my property to MAA if I'm proven guilty," said an emotional Sivaji Raja.
Hero Srikanth too condemned corruption charges against him. "I'm ready to quit MAA forever if proven guilty," challenged Srikanth. "MAA's bank balance was only Rs 2 crores when we I took over as treasurer.
Now, the balance is over 5 crores. We are hoping to double the funds after USA shows with Chiranjeevi, Mahesh Babu and Prabhas. We are committed to build new MAA office," said Paruchuri Venkateswara Rao.