Pawan Kalyan is campaigning is going on in full swing in Andhra Pradesh, Janasena party founder has called for a political meeting named Janasena Kavathu on Dhavaleswaram barriage on 15th October. The meeting aimed at the ultimate better society.
The meeting will be held on Godavari district, consisting five MP's and 34 MLA constitution. Power star has planned a huge political gathering after a long time. However, the star has a small request for fans who are attending the Kavathu meeting.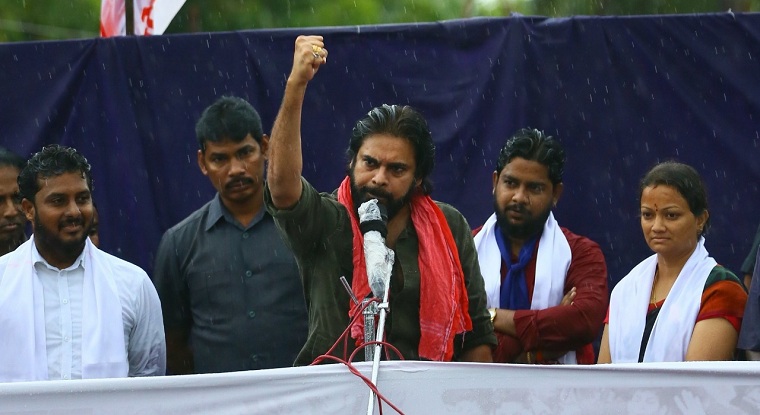 Pawan Kalyan has urged his fans to attend the meeting carefully and show the excitement in Kavathu, also humbly requested fans to drive safe and think of his families and him while driving.
జన సైనికులకు ముఖ్యంగా బైకుల్లో వచ్చే యువత వేగంగా రాకండి,ఉత్సాహాన్ని కవాతులో చూపించండి. బైక్ ఆక్సిలేటర్ సౌండ్లతో ఎవరిని ఇబ్బంది పెట్టకండి, ఇంటి నుంచి జాతీయ స్ఫూర్తి తో కవాతుకు రండి,మళ్ళీ క్షేమంగా ఇంటికి వెళ్ళండి. pic.twitter.com/BdaBjoMp1b

— Pawan Kalyan (@PawanKalyan) October 14, 2018
మీ క్షేమం నాకు ప్రథమ భాద్యత. బైకుల్లో స్పీడ్ వెళ్ళేటపుడు మీ తల్లితండ్రులుని, నన్ను గుర్తు పెట్టుకోండి, నిదానంగా రండి.. pic.twitter.com/upH9coflAs

— Pawan Kalyan (@PawanKalyan) October 14, 2018