The brutal murder of Pranay in the name of honour killing yet to be sunk in us, and here we have another such horrifying incident taking place in hitech city of Hyderabad.
Inter-caste marriage of Madhavi (22) and Sandeep (24) made bride's father turn a barbaric that he tried to kill his own daughter. As per reports, Sandeep from Erragadda and Madhavi from Borabanda's Vinayak Nagar have been in love for the past 5 years. Madhavi's father who was against it, fixed her marriage with her cousin.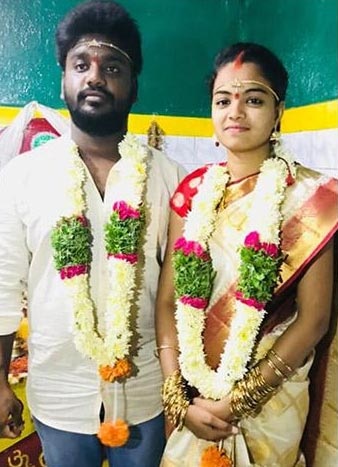 Madhavi eloped with Sandeep and married 10  days ago at a temple in Alwal. Learning about their marriage, finally, Madhavi's parents have accepted their marriage. On Wednesday, Madhavi's father asked the couple to comed to Erragadda to purchase new clothes acting to have compromised.
Madhavi's father suddenly took a machete out of his bag attacked the couple. Both of them are severely injured and bleeding. They have been rushed to nearest hospital by onlookers. Madhavi's condition is said to be serious. The incident was recorded on CCTV.